Reviewed this month:
Princess and the Hound, Mette Ivie Harrison
Station Eleven, Emily St. John Mandel
The New Moon with the Old, Dodie Smith
Brother Cadfael's Penance, Ellis Peters
(In a Sense) Lost and Found, Roman Muradov
Seconds, Bryan Lee O'Malley
Royal Airs, Sharon Shinn
Fleabrain loves Franny, Joanne Rocklin
Illusions of Fate, Kiersten White
Saga vol. 4, Brian K. Vaughan
Finder: Third World, Carla Speed McNeil
Tina's Mouth, Keshni Kashyap
Crooked Heart, Lissa Evans
Unmade, Sarah Rees Brennan
Gabi: A Girl in Pieces, Isabel Quintero
Blue Lily, Lily Blue, Maggie Stiefvater
The Moon and the Face, Patricia McKillip
The Paying Guests, Sarah Waters
Darkbeast, Morgan Keyes
Keara's darkbeast is Caw, a raven who has been her constant companion since birth, taking her faults and making them his own. Everyone has a darkbeast until the age of twelve — on their birthday, they must sacrifice their darkbeast and become an adult. But how can Keara kill her best friend?
I liked the worldbuilding in Darkbeast, the small details of religion and common phrases and family. I think Caw was my favourite — funny and wise and always hungry. But I feel the relationships could have been fleshed out more, and the end seemed a bit weak. I guess it was left hanging a bit in order to get people to read the next book? I don't know. I'm still undecided on whether I want to read the sequel.
Deep Amber, C. J. Busby
Two pairs of protagonists (a sister and brother in our world, and an apprentice witch and castle troublemaker in another) set out to solve the mystery of objects being transferred across worlds. I read this because I saw a recommendation by Frances Hardinge on the sequel (Dragon Amber), and Frances Hardinge is amazing so I thought maybe this would be amazing too. Alas, I think I suffer from being too old for this book. It's probably something that I would really enjoy as an eight to twelve year old, but it doesn't have that deeper layer that authors like Diana Wynne Jones or Frances Hardinge create. I would still recommend Deep Amber for child fans of the above authors as a light read with a similar flavour.
The Motherless Oven, Rob Davis
I don't even know what to say about this book. A world where it rains knives and children construct their parents out of spare parts and old machinery. Intriguing, but a frustratingly vague ending. Maybe I'm not smart enough? Sometimes comics seem to end just because the author has been working on it for a while and it seems like they should end it, rather than because the story makes sense/is satisfying to end that way. The art was interesting though.
Kingdom by the Sea, Robert Westal
l
I can't remember who mentioned this. Elizabeth Wein, maybe? Whoever it was, I'm glad I took note of it because this is fantastic. I thought I'd read Westall before but looking at the books he's written maybe I haven't, which is ridiculous because he's exactly the kind of writer I love. It was interesting reading this so soon after Crooked Heart, which also features an orphaned boy looking for a home but is shelved in adult fiction, whereas Kingdom by the Sea has some adult references (not stated outright, but it's implied that one character is a paedophile) but is shelved in the children's section. Not saying they shouldn't be shelved where they are, but it goes to show that anyone who thinks kid's books are simple or don't deal with serious issues are reading the wrong books.
The Just City, Jo Walton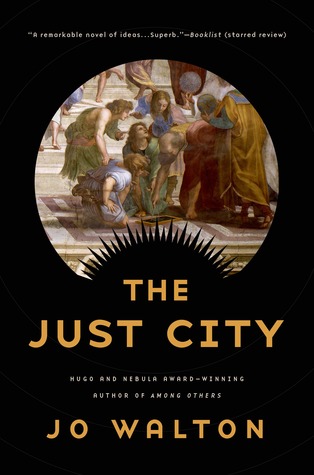 Very philosophical, which isn't surprising given that it's set in Plato's Republic — or rather, the best approximation that its citizens can create. This isn't something that would normally appeal to me. The narrative voice of the novel is incredibly passive to the point where I didn't really feel any emotions even when awful things happened, and the characters didn't seem to really feel emotions either. On the other hand I kept reading to the end, and I have a vague interest in learning what happens to the city.