Probably Nothing: A Diary of Not Your Average Nine Months, Matilda Tristram
Graphic novel that follows Matilda's life before and after she is diagnosed with cancer while pregnant. I've decided biographical comics might be my favourite at the moment — I'm an inherently nosy person, so getting a look at someone else's life is always interesting, even when it deals with something awful like cancer and chemotherapy. Matilda seems like a funny and snarky person, which helps.
Gaudy Night, Dorothy Sayers
Finally got around to reading this! I think I still like Strong Poison better, but I suspect that may change the next time I read it. An interesting snapshot of Oxford in the past, and the politics of a women's college.
Wigram, Bee Dawson
A history of the development of civil and military aviation in Wigram/Canterbury. More interesting than it sounds! I was in the local museum recently and noticed a lady's flying suit from the 1930s on display, and through researching the original owner became interested in the other local pilots who gained their licences at Wigram in the early days of flying.
Women Heroes of World War I and Women Heroes of World War II, Kathryn Atwood
Both books are completely fascinating, quick to read and full of amazing ladies. One of my favourite stories is of a couple of ladies (Lady Helena Gleichen and Nina Hollings) who decided that they'd learn radiography in order to help the war effort. After training and obtaining equipment, they offered their services to the British, who refused ('women aren't radiographers'). They offered their services to France, who accepted and then attempted to steal their equipment. Finally, they went to Italy, where they were incredibly helpful in locating internal wounds and assessing the impact of gas on soldiers. Apparently the lungs shrink to 2 inches in diameter! Ouch.
Code Name Pauline, Pearl Witherington Cornioley
This is another in the Women in Action series (same as the above two books), and is equally fascinating. If you like Code Name Verity or are at all interested in SOE and the French Resistance, you should read this.
We Landed by Moonlight, Hugh Verity
Can you sense a theme? Hugh Verity describes the pilots and flights of the ATA (Air Transport Auxiliary) in World War II. A bit dry, but the stories are so exciting it's easy to read anyway.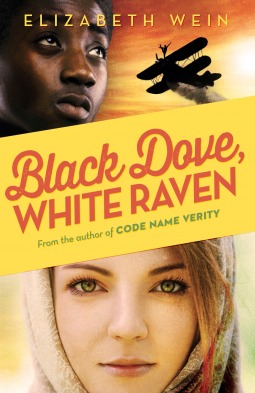 Black Dove, White Raven, Elizabeth Wein
A bit slower in pace than Code Name Verity or The Sunbird, but gets exciting. Loved the relationship between Em and Teo — in fact all the characters, even the smaller ones, are very well observed. Despite the best efforts of the cover, nothing about this book is black and white. (Except maybe mustard gas. Mustard gas is just evil.) I'll write a more detailed review when I get back from holiday, because this deserves more than my frazzled brain can come up with pre-flights.
D.A., Connie Willis
Very short novella. Can't say much without spoiling the plot, but if you like Connie Willis (which I do) then you'll enjoy this.
There won't be any posts for about a month while I'm overseas, unless I manage to write some up and schedule them before I go. I'm currently reading Under the Painted Sky by Stacey Lee and Persona by Genevieve Valentine, both of which I'm really enjoying and want to write about, so I might have to enthuse about those tomorrow. We'll see.