Woah I've built up a backlog of recent reads, I'll just make some quick comments about each for now. How is this year going by so fast?!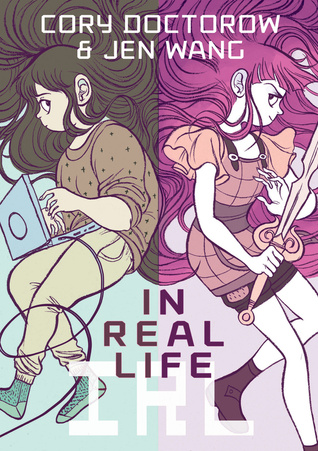 In Real Life, Cory Doctorow and Jen Wang
Gorgeous comic — I love both Cory Doctorow and Jen Wang's work, so no surprises here. Lovely story of family and friendship that also raises the issues of unfair labour conditions in China.
The Unadulterated Cat, Terry Pratchett
I was feeling sad about the lack of Pratchett in the world, and I hadn't read this one. A light collection of anecdotes that cat owners will recognise.
The Strange Library, Haruki Murakami
Not my cup of tea, but it's super short so I finished it anyway.
Their Finest Hour and a Half, Lissa Evans
I didn't enjoy it as much as Crooked Heart (which I loved), but it was still enjoyable and had some lovely characters and also fed my current WWII obsession.
The War That Saved My Life, Kimberly Brubaker Bradley
See above re: WWII obsession. This came in with the new books at the library and it looked interesting. I enjoyed reading it, but I felt like some of the vocabulary wasn't quite right for the period. BUT I loved its sensitive portrayal of a main character with PTSD. Her simultaneous rage at but also hopeful love for her mother felt incredibly real and sad. Also a great depiction of a character with depression! Stars all round.
Bombs on Aunt Dainty and A Small Person Very Far Away, Judith Kerr
I read When Hitler Stole Pink Rabbit several years ago without realising that there were sequels, and I finally borrowed these from the library. Just as good as the first, but more depressing. Anna (well, Judith really) takes on more responsibility as she grows up and has to deal with a difficult, unhappy mother who hates her job and hates having to organise everything for the family, and a father who doesn't speak English so cannot support them with his writing. This is all during the blitz and the fear that Germany would invade Britain and their long flight across Europe would be for nothing. How did anyone stay sane?! And then in the third part of the trilogy Anna is a lot happier (recently married, taking on an interesting new career) but has to deal with her mother's attempted suicide while being in a country she feels resentful and uncomfortable in (Germany). It's all fascinating but sad, and now I'm thinking I'll have to go back and reread When Hitler Stole Pink Rabbit.
A Childhood in Scotland, Christian Miller
Saw Elizabeth Wein's review on goodreads and ordered it from the library. Interesting, funny in places, and deeply evocative of a particular place and time. Illustrates the paradox of growing up quite wealthy but also incredibly neglected. I wish I could get hold of her other books.
Harvest, Robert Westall

I confess I knew nothing of the Mau Mau before I read this book. While it's a thoughtful illustration of a woman coming to terms with trauma and getting ready to rebuild her life, I would have been interested in seeing more of life in Kenya.
The Murdstone Trilogy, Mal Peet
Read on Elizabeth Wein's recommendation. It's very funny in parts, and I liked the premise, but some of it didn't quite sit right with me. The names of the Tibetan monks, for example. And Philip is just yet another middle-aged male writer character (yes, I get that this is partly the point). But the library scenes are pure gold.